Chicago Playboys

|

PVP Gang
Playboys | Ventures | Pulaski Parkers | Rice Boys
Play Boys, Ventures, and the Pulaski Parkers were three Northside Chicago Stone Greaser gangs that had formed an alliance. This alliance was once a rival of the Gaylords, but for a period of time in the 70s there was a Play Boy Ventures Gaylord unity.
Devil, from the original H&W Ventures, had this to say: "The Playboys were originally called the Playboys, and the three white Gangs from around Ashland and Division Ventures, Playboys and Pulaski Park boys all got together and formed the PVPs: Playboys-Ventures-Pulaski Park. I became a Venture after Doc and Kong got killed and Hung at St. Mary's Church with the North and Damen Jousters, playboys and Ventures. . I went from that Last Stand against the Ricans up to Lawndale and fought at that last Stand.....Wouldn't change a Thing."
Greasers United
P.V.R. was another alliance that stood for Play Boys Ventures Rice Boys

Pee Wee Cragin Park Play Boys 1986

Click image to enlarge

Click image to enlarge
Cragin Park PlayBoys

Almighty PlayBoys

PlayBoys Ventures Pulaski Park

Almighty PlayBoys

Polish Viking Playboys - a Reporter's Mistake
The reporter was told that we were the Playboys and that our rival gangs were the Ashland Vikings and the Haddon Boys and the kings Smolak was a polish guy with a very strong ascent and well known in our neighborhood by the cops that picked him up off Hoyne Avenue that day. He had been shot in the hip earlier that day and was still angry. He didn't let anyone know he was shot, I was the DC. That was in the article that's why they call me DC. Smolak was a very strong character; he drank milk when the rest of us preferred beer or wine. The Playboys started in late 50's till 60's they were all kind of vanishing in the late 60's when we brought back the name. We first called ourselves the Coachmen, then we banded with the gang called the "13th district," they hung close to the 13th district police station on Wood Street .When we joined together we decided to be playboys again a few years later the Ventures had grew in size and we joined with them and the Pulaski Park guys to form the PVP's and later the Jousters and the TJO joined with us. One of the cards on your site that has Half Pint, Jr, and Zulu listed, those three guys were from the 13th district section and that was there card when they became Playboys. We have remained silent for years but life is getting shorter and some things need to be said. DC is growing older, something that Pete Smolak doesn't have to deal with as he will be young forever.I was also with Desi Conlon just before he was killed....Kong and Desi will always be on my mind till the day I die. Also all the others that were affected by this era ,Once again Kong was Polish we fought the Vikings and we are the Playboys.
Thanks DC
Taylor Jousters Playboy Unity Card

The Almighty Cragin Park Play Boys
The Playboys, or P.V.R, were part of the United Five Organization (UFO), which included: Gaylords, Playboys, C-Notes, and the Taylor Jousters. This alliance started in the early 1970's and lasted into the 1980's prior to the People/Folk Unities.
The Playboys:
Winchester & Thomas (PVP's)

Division & Waller (PVR's)

Crystal & Long (PVR's)

Montrose & Octavia Park (PVR's)

Cragin Park Playboys
Ventures:
Hermitage & Wabansia
Pulaski Park:
Blackhawk Street & Noble
Rice Boys:
Rice & Pine

Menard & Thomas

Crystal & Pine
PVP Turf
So the PVP's were in the same area Of Divison Avenue to the south, North Avenue to the North Ashland to West and Damen to the east. Map of PVP Turf
Hangouts:
Austin Bowl

Thatcher Woods Trestle On 1st avenue south of North ave.

Enemies:

The PVR's were UFO and used to Fight with Popes of Independence Park and Latin Brothers.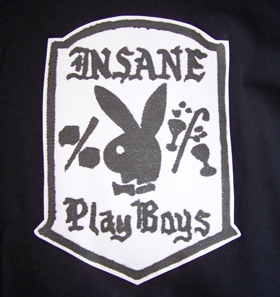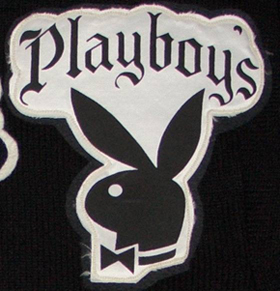 A Tribute to Kong Of the Almighty PVP's

Click image to enlarge
It was July 2nd 1971,shots were fired and another gangmember dies in the street. Pete was a leader of men even though he was only 16. He held the younger guys in such control. He even joked with them like snapping his fingers and they would all jump to attension. I could see something new coming. He spoke in such broken english, I had a hard time understanding him sometimes. Pete was Kong of the PVP's, but to me he was someone to look up to. He never was a follower. He did things his way. Like drinking milk and staying healthy instead of getting drunk everyday like the rest of us. Who knows how he would have affected us had he lived.
Kong and Playboys
The day he was killed he had been shot earlier that day while riding his bike past the Haddon Boys. I never saw him so mad. He was serious for the first time I ever saw the anger come out of him. We banded together to go heads up with the Kings, Haddon Boys or whoever was there at the time. Just before leaving to go find them, he handed me a handfull of bullets and said "You'll know what to do with them," as I knew who had the guns and where they would be, already moving into position. We stormed the back of the playground where we knew they were hiding hoping to flush them out the front. There were 4 of us ,and we were surprised to find what looked like dozens of them. We ran back from where we came, just as we crossed Augusta. Pete jumped into the air facing down the street where our boys were, "Shouting Playboy Luv" at the top of his lungs. There were shots coming from everywhere , and we were running on the sidewalk. Another Pete, myself, and Kong were in the middle of Hoyne. Just after I took a bullet in my left arm, I looked over at Pete, the other Pete, and saw his right bicep blow out with a bullet ripping through it. Just as I made a hard left turn, I took one in the side just half a step from getting it in the back. For some reason, I turned at this time and started walking back toward the shooter until I heard a few more shots that woke me up real quick. All I heard for the next hour after the cops got us and took us to the hospital was that Pete was shot. Pete was with me all the time. Later, I found that it was Pete,KONG, that was killed. Kong was a great man and a leader. I have always felt a little guilt for being the one that lived. Kong died before there were computers,cell phones, and all the things that have come to pass since those days in 71. I have had kids, and my kids would grow up and get married and to have a different life than I had. I wouldn't ever take anything back and I love all the good memories of my days on the street, but I wouldn't want that for my kids.
Pete, I still have the bullets you gave me. I figured out what to do with them,and that is my Tribute to KONG, of the Almighty PVPs.
Kong Lives From DC
Aftermath of Kong's Murder
The bullets were in my gun the night that I went to wait for Haddon Boys. They came back to their clubhouse and hung out outside for awhile. There was only one outside when I came from under the porch. I was going to give him Kong's bullets. They were all smiles till he seen who I was and what was coming. I had a choice to make: kill this unknown Haddon Boy or save the bullets till we found his killer. I started then "Saving the bullets". Some would say I punked out. I wasn't a punk. I wanted more that just shooting one of them. When the cops picked me up, I always carried a chapped stick in my pocket in the summer, so I dumped the chapped stick and loaded the bullets into the container. That's how I was arrested and still kept the bullets. They are still in the same container today. A few years later after Kong was killed the same Puerto Ricans were with a PR that put 5 bullets in my brother in front of Lafayette school, one in the heart. Don't laugh, this isn't bull shit. Two of the same Puerto Ricans that had shot me were there and took my brother to the hospital, Norwegian American. If they hadn't been there he would have died.... He lives on today. Who knows what the result of me killing that PR that night might have had on the future? I would rather have my brother alive than to have killed that Puerto Rican. DC of The Playboys and PVP's
Bullets Kong Gave to DC in 1971

Hearing Thursday for murder suspect - Article 1970's
A preliminary hearing has been scheduled Press release

PlayBoys Sweater
Senior Playboys: 1960s
We were all on the streets ...I was in maybe the 7th grade, and had lived around the Playboys for about 5 yrs.....I had moved from Marion Ct and Ellen to just around the corner from Wood and Ellen on Moorman St....Across the street from me was a empty lot and the L train went under ground at Paulina and Milwaukee. To the front was a big empty lot and to the left of that was a big 3 story abandoned factory, and another factory across the street in front of that one.....So there were no houses and no body hanging outside but us kids.....We heard a little yelling and we looked down the street and there was two Playboys, dressed out, these guys were in nice dress clothes and black dress shoes. I'm almost sure that when I first looked I saw a few other guys walking away.....These two guys just took off their jackets and shirts and were just in their dago tees... They started boxing....They were pissed as hell....We could tell cause as the blows would land and we could hear it all the way to where we were about 35 to 40 feet away.....These guys didn't say anything else, just toe to toe, one blow after the other, nothing but boxing, all punches finding there mark. This seemed to go on for what seemed like 20 minutes, non stop. At the end they both walked over and picked up their jackets and shirts and walked away together.....When we asked some of the older guys what had happened, they said it was two Playboys, and we respect both. They had some differences to clear up. It wasn't our business, and they solved it; both had walked away as winners, and I had a new found respect for the Playboys.....Years later, I found myself and my brother in the same type of fight....It went down almost the same.....I had walked up to a group of Playboys, and he tore into me......We started fighting and after a while we looked up and laughed and said, "where did all the guys go?" They had all just quietly walked away......And I said, "so what the hell was that all about?" He said, "you are wearing my shirt!"....I just washed it and ironed it before I left home.....I ripped the rest of the rag off and said, "why didn't you just ask?" And we walked away together - just two more Playboys......DC